TYPE 1 TRIBE SUBSCRIPTION BOX
Regular price
$29.99 USD
Sale price
$29.99 USD
Unit price
per
Sale
Sold out
Introducing our Type 1 Diabetes Snack Box - the perfect solution for those living with diabetes who need a quick and easy snack on-the-go.

Our snack box is filled with delicious and nutritious snacks that are carefully selected to meet the dietary needs of individuals with type 1 diabetes.
Each box contains a variety of low-carb, high-protein, and low-sugar snacks that are perfect for maintaining blood sugar levels throughout the day. From protein bars and nuts to jerky and seeds, our snack box has something for everyone.
We understand the importance of maintaining a healthy diet for those with type 1 diabetes, and that's why we've taken great care to ensure that every snack in our box is both delicious and nutritious.
Our Type 1 Diabetes Snack Box is perfect for those who want a convenient and easy way to snack without having to worry about their blood sugar levels. It's also a great gift idea for a loved one with diabetes who could benefit from having a variety of healthy snacks on hand.
Order your Type 1 Diabetes Snack Box today and experience the convenience and peace of mind that comes with having a delicious and nutritious snack always at your fingertips!
The Type 1 Diabetes Snack Box Includes:
- 5 different snack items each month (blood sugar friendly & low snacks!)
- 1 T1D silicone bracelet
- a T1D sticker
- a personalized note from our founder
- a reusable & recyclable gift box

$29.99 / month + shipping 
Shipping & Returns

Returns are not accepted. In some cases, we may issue a refund.
Care Instructions

Make sure to eat the entire bag! :)
Share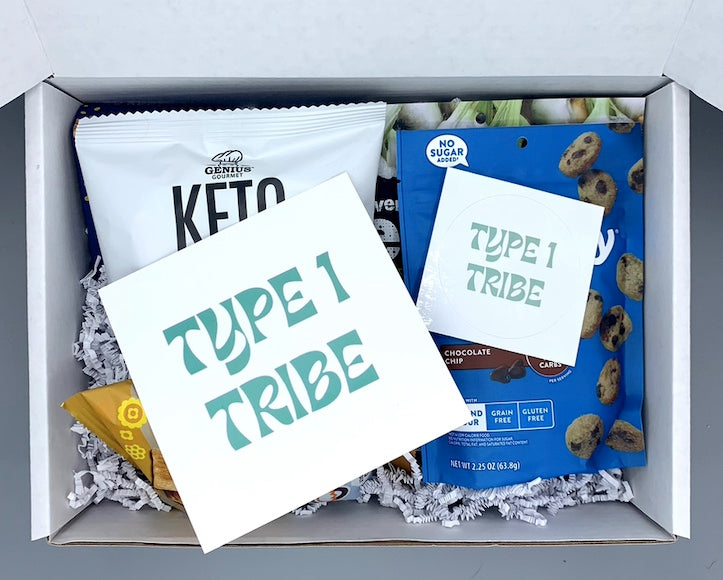 Love it!
The snack box is great! I loved all the snacks inside.
This is freaking awesome
I signed up to receive this snack box monthly and I think its great! I've found some new snacks to try and can even now order them individually off of the type1tribe website which is cool! can't wait for my next box next month. thanks!
Amazing snacks
I wasn't sure what I was going to get, but I was extremely happy and enjoyed all the snacks that came in the box. The personal hand written note that was included made the box even more special.
1st box
It was great! Had some new snacks to try! And little things to have. I appreciate having something like this to ease the tension of 24/7 worry!!
This is my favorite subscription box
This is my absolute favorite box that I get each month. It has a bunch of delicious snack items for me and my family to try, along with fun new items related to type 1 diabetes. Can't wait for my next one.